Its been an awesome 2 days at JsCampAsia – great talks, great people, fun events.
It was about 2 years ago when I first watch Ryan Dahl's node.js presentation at jsconf online. I subsequently found other quality jsconf talks so when I first learnt that JsCampAsia was going to be held in Singapore, I decided it was an event I should attend.
When Thomas Gorissen the JSCamp organizer asked if would like to conduct a workshop on three.js, I was really excited and agreed. So I learnt Ricardo/@mrdoob had mentioned me earlier at JSConf.EU, and it was a pity he couldn't come as he was attending dotJs in Paris.

Mozilla's Michal Budzynski asking Google's Eric Bidelman a question. JSCamp's Thomas on the right
Its my first time giving a talk at such scale, so its really nice to have some attendees came to me telling me that they have found have enjoyed the workshop or have found three.js interesting. (I'm sure no one was nasty enough to tell me if I was bad, so I'll probably do some self criticism when I grab a copy of my video)

With one of the JSCamps's helpers
Apart from the excitement of speaking, it just pleasurable to listen to the talks to the speakers coming from around the world – some really interesting, some informative, some engaging, enjoyable – and some I've missed out, I'll be will catching them once the videos get released.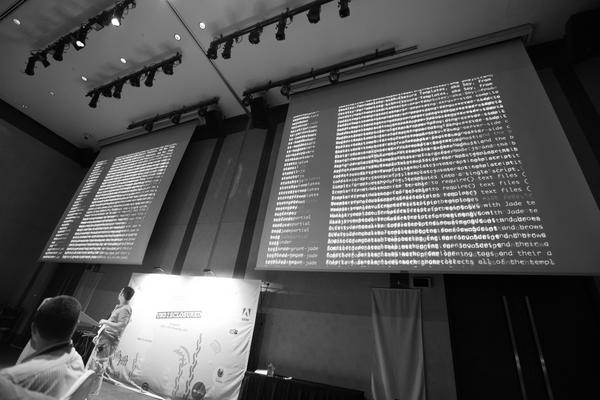 Of the best loved talks about replacing html & css with js by Jed Schmidt
So the last thing awesome about JSCamp is about meeting people, although some really briefly. To the audiences who said hi, thanks or even asking questions, I'm thankful and appreciate that. In turn, I probably have asked other speakers some difficult or silly questions.
On returning home (at the northern end of this small island), my body decided it deserved a day of hibernation.
Overall, JSCampAsia was a great conference, and to be a small part of it is my honor and pleasure. Hope to see you all again!
Some links
Official Blog – http://blog.jscamp.asia/
Collection of Links – https://gist.github.com/4167535
Handout for 1st session – http://zop.im/start-threejs
Slides for 1st session – http://zop.im/start-threejs-slides
Sample code – http://zop.im/start-threejs-code
Slides for 2nd session – http://zop.im/start-threejs2
Some photos

Speakers lunch

A picture of the conference hall

Jan from Amsterdam who spoke on dependency injection in "The Architect Way" on our way back.

With my colleagues from zopim who attended this conference too

Only bad thing about seating in the front is the "giraffe neck".

Panel discussion – pretty sure @divya isn't looking at her mobile phone this time.

This is me on my 2nd session showing a visualization of a photo with three.js

Everyone getting ready for the group photo!

Everyone with my Jelly Bean's panorama shot.

Shim Sangmin from Korea, creator of Collie . He has great slides on High Performance Mobile Web Game Development in HTML5. He bought lots of Kaya jam home too